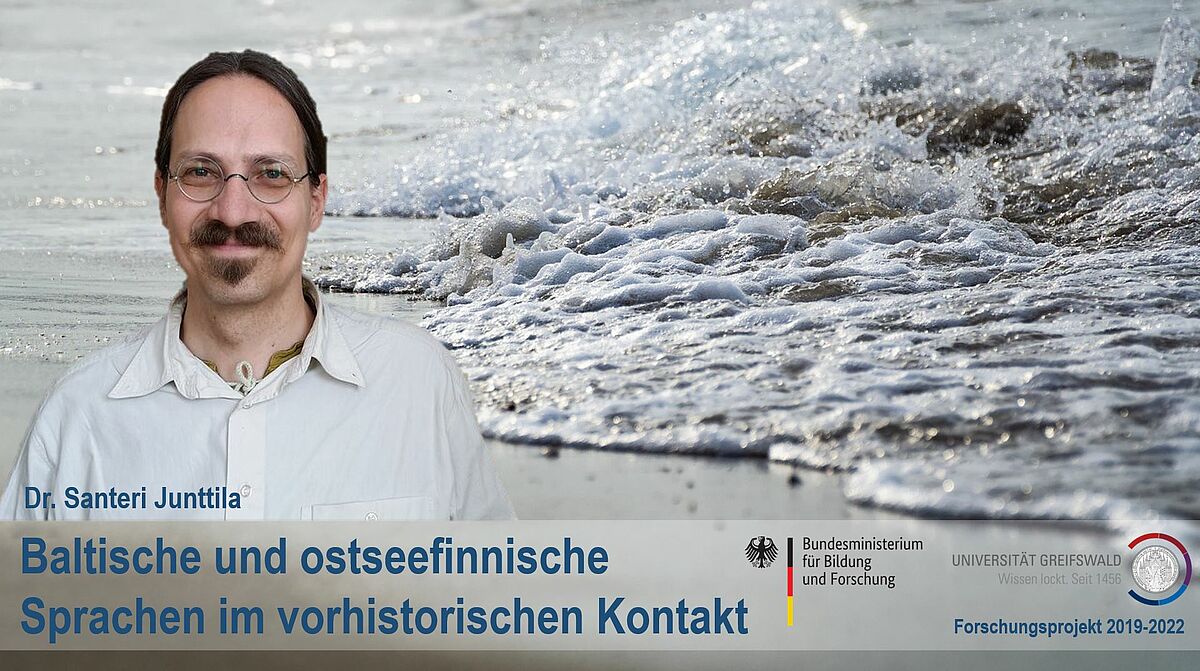 Aktuell
24.02.2020
Die Etymologien der auf h anlautenden Lexeme sind zur Diskussion online: Link
26.02.2020
Präeditierte PDF-Fassung der auf h anlautenden Lexeme zur Ansicht
Baltische und ostseefinnische Sprachen im vorhistorischen Kontakt
Das Projektziel besteht in der Erarbeitung eines grundlegenden, teils enzyklopädischen Überblickswerks zu den lexikalischen Spuren vorhistorischer ostseefinnisch-baltischer Sprachkontakte. Das Werk stellt in der Lehre und Forschung sowohl der Fennistik/Finnougristik als auch der Baltistik und der Archäologie des Ostseeraums seit langem ein Desiderat dar. Als ein Grundlagenwerk der arealbezogenen historischen Sprachkontaktforschung stellt es zudem ein bisher nicht vorhandenes Bindeglied zur arealtypologischen Grundlagenforschung und zur lexikologisch-semantischen Forschung philologischer Anrainerdisziplinen dar. Ausgehend von der Erforschung alter germanisch-ostseefinnischer Lehnbeziehungen, die u.a. zu einer präzisen Neudatierung der relevanten Sprachkontakte geführt hat, ist es der Finnougristik gelungen, ein hochentwickeltes Instrumentarium zur Identifizierung von Lehnwörtern zu etablieren, dessen allgemeinlinguistisches Transferpotenzial durch das baltisch-ostseefinnische Forschungsprojekt nochmals verbessert und international deutlich bekannter gemacht wird. Der Charakter des Lehnwortschatzes lässt wichtige Schlüsse auf die kulturgeschichtliche Entwicklung im östlichen Ostseeraum zu. Zur Beurteilung vorgeschichtlicher Prozesse nimmt hier gerade die Sprachwissenschaft in Ermangelung historischer Quellen eine wichtigere Rolle ein, als in jenen Kulturräumen mit frühen Überlieferungen. Zur interdisziplinären Berücksichtigung der Expertise internationaler Fachleute wird in einer gesonderten Redaktionsphase das sukzessive bearbeitete lexikalische Material über eine speziell konzipierte interaktive Plattform online zur Kommentierung bereitgestellt. Die Wortartikel des etymologischen Wörterbuchteils der Monographie folgen zudem einem innovativen lexikografischen Gliederungsprinzip, das u.a. die Verbreitung der für eine baltische Lehnetymologie vorgeschlagenen Einzellemmata und ihrer Bedeutungen in den 22 ostseefinnischen Hauptdialekten visualisiert erfassbar macht.
Baltic and Finnic languages in pre-historic contact
The aim of the project is to prepare a foundational, in part encyclopaedic monograph that provides an overview on lexical traces of prehistoric Finnic – Baltic language contact. This work has long been a desideratum in teaching and research in Finnish/ Finno-Ugric Studies as well as in Baltistics and the archaeology of the Baltic Sea Region. Being a foundational work of areal research on historical language contact, it represents a link connecting this field with areal typological basic research as well as with lexicological-semantic research of neighbouring philological disciplines. Based on the research of old Germanic – Finnic loan relationships, which led, among others, to the relevant language contacts being redated, Finno-Ugric research successfully established a highly developed toolkit for the identification of loan words. Thanks to the Baltic-Finnic research project, the toolkit's potential of transfer to general linguistics will be further improved and it will become considerably more widely known internationally. The character of the loan vocabulary allows for important conclusions on the development in the eastern Baltic Sea Region in terms of cultural history. For a lack of historical sources, linguistics plays an even more important role in the examination of prehistoric processes in that region than in cultural areas with early records. In order to include the interdisciplinary expertise of international experts, the lexical material that is worked on successively will be available for comments in a separate phase of preparation via a specially designed interactive online platform. Moreover, the entries in the part of the monograph that is an etymological dictionary are compiled according to an innovative lexicographical structuring principle. This structure provides visually supported information on, among others, the spread and the meanings of the individual lemmata which are proposed for a Baltic loan etymology in the 22 main Finnic dialects.