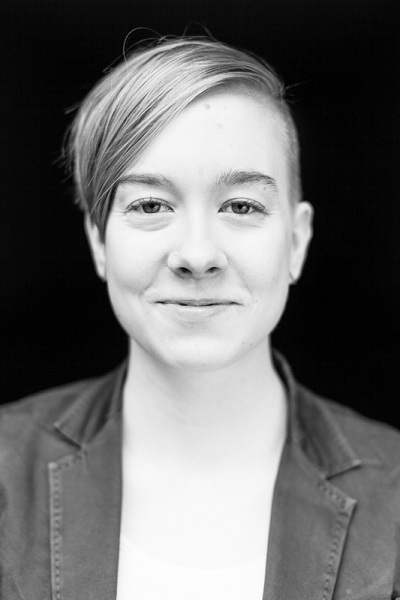 Vita
| | |
| --- | --- |
| 2020 | Dr. phil. Universität Helsinki |
| seit 2020 | Mitglied der Jungen Wissenschaftsakademie Finnlands |
| 2014–2016 | Doktorandin mit Lehrverpflichtung am Institut für Fennistik, Finno-Ugristik und Skandinavistik; Mitglied und wissenschaftliche Mitarbeiterin des linguistischen Graduiertenkollegs (Kielentutkimuksen tohtoriohjelma), Universität Helsinki, Finnland |
| 2013–2020 | Promotionsstudium der Finnischen Sprache an der Universität Helsinki; 01.01.–31.12.2013 als Stipendiatin der Kone-Stiftung (Koneen säätiö) im Projekt "Suomen kognitiivista kielioppia sukukielten kehyksessä" [A Cognitive Grammar of Finnish in comparison with other Finno-Ugric Languages] |
| 2012 | Wissenschaftliche Hilfskraft am Institut für Fennistik, Finno-Ugristik und Skandinavistik am Projekt "Suomen kognitiivista kielioppia sukukielten kehyksessä" |
| 2012 | M.A. Finnische Sprache / Erziehungswissenschaft (Pädagogische Studien für Lehrer), Universität Helsinki |
| 2011 | B.A. Finnische Sprache / Allgemeine Literaturwissenschaft, Universität Helsinki |
| 2010 | Praktikantin in der Verlagsgesellschaftsgruppe Art House |
| 2008–2012 | Studium der Finnischen Sprache an der Universität Helsinki |
| 2008 | B.Mus. Musikpädagogik, Musikhochschule Sibelius-Akatemia, Helsinki, Finnland |
| 2005–2008 | Studium der Musikpädagogik (Lehramt) an der Musikhochschule Sibelius-Akatemia |
Publikationen
Bücher
Salminen, Jutta 2020: Epäilemisen merkitys. Epäillä-sanueen polaarinen kaksihahmotteisuus kiellon ja kielteisyyden semantiikan peilinä. Akademische Doktorarbeit, 282 S.Universität Helsinki. https://helda.helsinki.fi/handle/10138/312218
Artikel (Zeitschrift)
2020: Epäilemisen merkitys: Epäillä-sanueen polaarinen kaksihahmotteisuus kiellon ja kielteisyyden semantiikan peilinä. Disputationsvortrag. – Virittäjä 124, Online-Anhang 1–8.
https://journal.fi/virittaja/article/view/91073
2018: Paratactic negation revisited. The case of the Finnish verb epäillä. – Functions of Language 25(2): 259–288. https://benjamins.com/catalog/fol.15030.sal
2017: Epäily vai epäilys? Jaettu polysemia ja lekseemien tyypilliset käytöt. [Epäily oder epäilys? Die gemeinsame Polysemie und die für die Lexeme jeweils charakteristischen Verwendungsweisen.] – Sananjalka 59: 218–244. https://journal.fi/sananjalka/article/view/66636
2017: Mitä tarkoittaa epäillä? Epäillä-verbin polaarisesta merkitysvariaatiosta nykysuomessa. (Originalartikel) Virittäjä. Kotikielen seuran aikakauslehti. 2017; 121(1):4-36. https://journal.fi/virittaja/article/view/52322
2017: Epäillä-verbin polaarinen kaksihahmotteisuus merkitysmuutoksena. (Originalartikel) Virittäjä. Kotikielen seuran aikakauslehti. 2017; 121(1):37-66. https://journal.fi/virittaja/article/view/52323
2015: From doubt to supposition: The construction-specific meaning change of the Finnish verb epäillä. In: Perspectives on Complementation: Structure, Variation and Boundaries. Höglund, M., Rickman, P., Rudanko, J. & Havu, J. (Hrsg.). New York: Palgrave Macmillan 2015, 157–176. ISBN: 978-1-137-45005-0.
2011: Kolmen pennin ooppera etäännyttää, ilmiantaa ja parodioi: Vieraannuttaminen ja empatia Bertolt Brechtin ja Kurt Weillin musiikkinäytelmässä Kolmen pennin ooppera [Die Dreigroschenoper entzweit, verrät und parodiert: Die Entfremdung und die Empathie in dem Musikschauspiel Dreigroschenoper] In: Kieli ja empatia [Die Sprache und die Empathie] Herlin, I., Laukkanen, E., Mäkinen, M., Salminen, J. & Visapää, L. (Hrsg.), Institut für Fennistik, Finno-Ugristik und Skandinavistik, Universität Helsinki 2011, 115–127. ISBN: 978-952-10-7570-4
Rezensionen
2018: Painavaa kielioppia. [Gewichtige Grammatik.] – Virittäjä 122(4): 614–620. Eine Rezension des Buches: Karlsson, Fred: Finnish. A Comprehensive Grammar. Routledge Comprehensive Grammars. London: Routledge. https://journal.fi/virittaja/article/view/70150
2013: Kiellon muodot ja merkitykset. [Die Formen und Bedeutungen der Negation.] – Virittäjä 117: 131–135. Eine Rezension des Buches: Horn, Laurence R. (Hg.) 2010: Expression of Negation. Berlin: De Gruyter Mouton. https://journal.fi/virittaja/article/view/7672
Vorträge
Vorträge
02.12.2022: Epäillä 'to doubt; suspect, suppose' – 'doubt' as a (complex) sense/reading. Vortrag im Rahmen eines interdisziplinären Seminars "DOUBT: Interdisciplinary perspectives" (01.–02.12.2022) organisiert von Dr. Daria Gritsenko, Universität Helsinki.
26.08.2022: Finnish negative indefinites as NPIs. Vortrag im Rahmen der Congressus XIII Internationalis Fenno-Ugristarum (22.–26.08.2022), Universität Wien.
14.05.2022: Kenetkään – kieltohakuinen totaaliobjekti toisen äänen kaiuttajana. [Kenetkään – das NPI Akkusativobjekt als Echo einer anderen Stimme] Vortrag im Rahmen der XLVIII finnischen Linguistiktagen, Kielitieteen päivät (12.–14.05.2022), Universität Turku.
24.03.2021 Epäilemisen merkityksestä kiellon ja evaluoivan kielteisyyden suhteen tarkastelussa [Über die Bedeutung des Verbs epäillä 'bezweifeln, verdächtigen, vermuten' für die Betrachtung des Verhältnisses zwischen Verneinung und der evaluativer Negativität] Vortrag im Rahmen des interdisziplinärer Akademie-Klub der Jungen Wissenschaftsakademie Finnlands.
https://www.youtube.com/watch?v=_msyAO3qRXY
05.10.2019: "Polaarinen kaksihahmotteisuus ja kulttuuriset arvot" Vortrag im Rahmen der 3. internationalen auslandsfennistischen Herbstschule Valta virtaa kieleen (01.–05.10.2019), Universität Warschau.
27.09.2018: "Epäilemisen merkitys" Vortrag im Rahmen der 2. Internationalen auslandfennistischen Herbstschule Suomi ja suomi Keski-Euroopassa: historia ja nykytilanne (23.–27.09.2018), Univerzita Karlova, Prag.
25.07.2017: "Ei jää varteenotettavaa epäilyä – beyond reasonable doubt, or not? The establishment of one potentially ambiguous legal term." Vortrag im Rahmen der jährlichen SKY (The Linguistic Association of Finland) Konferenz, The Expression of Knowledge (23.–25.08.2017). Universität Helsinki.
Sonstiges:
20.10.2018: "Mitä kuuluu? Finnisch in 15 Minuten." Finnisch-Crashkurs im Rahmen des Tags der offenen Tür zum 100. Jubiläum des Instituts für Fennistik und Skandinavistik (20.10.2018). Universität Greifswald.
Aktuelle Lehrveranstaltungen